Elizabeth: The Golden Age
My Review:
Wow.  This is the first real Oscar contender I've seen – and I think it just might sweep awards season.  This Elizabeth is a sequel to the one that came out 9 years ago with much of the same cast and crew.  I was lucky enough to attend a screening where Geoffrey Rush, Abbie Cornish and the director, Shekhar Kapur, did a Q and A with the audience afterwards.
The script is phenomenal.  It's history, after all.  True events are always more compelling to me than something that is merely made up.  Cate Blanchett reprises the role that made her a movie star and she is even better, if that is possible, this time around.  What an amazing actress, and what an amazing character she gets to play!  Elizabeth is definitely larger than life.  In this story, she's a mature queen, confident and cool.  Abbie Cornish is her favorite lady-in-waiting, "Bess," a young lady devoted to her queen.  Clive Owen is the intriguing Sir Walter Raleigh, the one man who catches the attention of both of them.  It's an interesting love triangle.
When I asked Shekhar Kapur about this triangle, he explained that his take on it was that Elizabeth and Bess are actually the same person.  Elizabeth represents the spiritual, the divine.  Bess represents the mortal, the material.  In order to rule England, and lead victoriously in this war against Philip of Spain, she must not be distracted by her mortal self, she must be immortal.  So as Bess ultimately "wins" Sir Walter, Elizabeth is free to serve, to follow her destiny. How insightful, how intense.  I vote for this guy for best director!
The mythology involved in this tale, the imagery, the scenery, the camera work, the costumes – all the absolute best.  Well done.  Brilliant.
---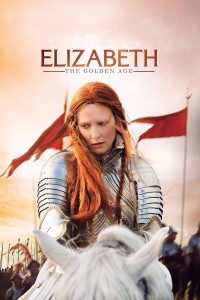 Elizabeth: The Golden Age
- -
---
---
This movie is a Sequel to the First Elizabeth movie from 1998, and takes place in the 15th century, following the virgin queen of England, and her epic battle against the Spanish fleet
Photos
Storyline
---
---
Details
Box Office
Company Credits
Technical Specs