Eagle Eye
My Review:
Eagle Eye is a solid futuristic thriller set in the present.  Shia LeBeouf plays a college drop-out who is "activated" by some unknown person on a cell phone and forced to take extraordinary risks in order to save his life.  Michelle Monaghan is also activated, and follows orders to keep her son safe.  The two strangers embark on a scary adventure where they don't know who is in control or where they will end up.
It's all a little Hitchcock, a little Kubrick, and the two leads make it work.  Good date night movie, escapism and not too much violence given the subject matter, although there are plenty of scary parts where you hold your breath.  PG-13, there were lots of kids in the audience, and they're probably all Shia LeBeouf fans.
---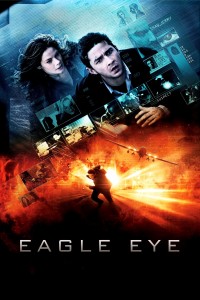 Eagle Eye
- -
---
---
Jerry Shaw (Shia LaBeouf) and Rachel Holloman (Michelle Monaghan) are two strangers whose lives are suddenly thrown into turmoil by a mysterious woman they have never met. Threatening their lives and family, the unseen caller uses everyday technology to control their actions and push them into increasing danger. As events escalate, Jerry and Rachel become the country's most-wanted fugitives and must figure out what is happening to them.
Photos
Storyline
---
---
Details
Box Office
Company Credits
Technical Specs