Defiance
My Review:
Defiance is based on the true story about three Jewish brothers in Poland who managed to help hundreds of Jews hide from the Nazis during the time of the Holocaust.  Daniel Craig and Liev Schreiber play the two older brothers.  Their father is killed and they are forced to flee into the forest.  Over time, more and more people join them, and they end up forming a community working to keep each other alive.  The two brothers collide, and one goes off to serve in the Russian army while the other maintains the community.  The group ends up facing many obstacles, including hunger, animals, freezing cold, and even divisiveness.  How they come together during these crises is remarkable, and inspirational.
There is a lot of violence in the movie, and it is difficult to watch people suffer.  Well written and strong performances.
---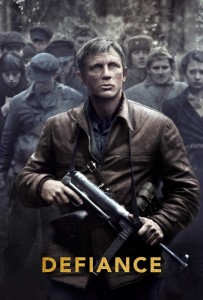 Defiance
- -
---
---
During World War II, four Jewish brothers escape their Nazi-occupied homeland of West Belarus in Poland and join the Soviet partisans to combat the Nazis. The brothers begin the rescue of roughly 1,200 Jews still trapped in the ghettos of Poland. Based on a true story.
Photos
Storyline
---
---
Details
Box Office
Company Credits
Technical Specs