Confessions of a Shopaholic
My Review:
Isla Fisher stars in Confessions of a Shopaholic, based on the best-selling chick-lit novel.  It's light and fluffy, but given the current economic crisis, very timely.  A young girl has her priorities all mixed up, as she finds fulfillment from material things instead of within.    She gets horribly in debt, and loses her job.  Ironically, she ends up working for a financial magazine, writing articles about money.  A debt collector hounds her, and she lies chronically.  She takes advantage of her friends, and she's not a very likeable person – but for some reason her boss is smitten.  Of course at some point she learns her lesson and turns her life around.  Cute movie, great clothes, well styled by the same person who did "Sex and the City."  And Isla Fisher is charming and great at physical comedy.
---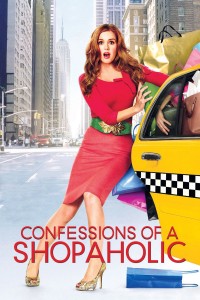 Confessions of a Shopaholic
- -
---
---
In the glamorous world of New York City, Rebecca Bloomwood is a fun-loving girl who is really good at shopping-a little too good, perhaps. She dreams of working for her favorite fashion magazine, but can't quite get her foot in the door-until ironically, she snags a job as an advice columnist for a financial magazine published by the same company.
Photos
Storyline
---
---
Details
Box Office
Company Credits
Technical Specs