Cloud Atlas
My Review:
Cloud Atlas is certainly ambitious.  And utterly original.  There's really no specific genre for this film – it's part sci-fi, part romance, part adventure – both futuristic and historical – character studies, and relationship-based.  Each leading actor plays many different parts, which intersect throughout the various storylines, which are set in different timelines.  This is the kind of movie where if you really liked it, you want to watch it again to see what you missed the first time around.
Tom Hanks and Halle Berry are terrific.  I guess my issue with the film is that it's really long, and it takes a long time to get into it, and understand what is tying all these stories together.  It's just all a little too much to take in.  But real film buffs will find it worth viewing, and film students may want to take notes!
---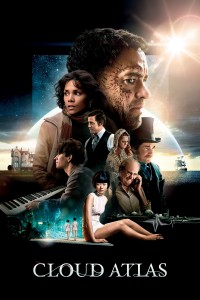 Cloud Atlas
- -
---
---
A set of six nested stories spanning time between the 19th century and a distant post-apocalyptic future. Cloud Atlas explores how the actions and consequences of individual lives impact one another throughout the past, the present and the future. Action, mystery and romance weave through the story as one soul is shaped from a killer into a hero and a single act of kindness ripples across centuries to inspire a revolution in the distant future. Based on the award winning novel by David Mitchell. Directed by Tom Tykwer and the Wachowskis.
Photos
Storyline
---
---
Details
Box Office
Company Credits
Technical Specs