Closer
My Review:
This is an intense relationship drama, rated R for language, mostly talk about sex. Originally a play, Closer is really one dialogue after another. There's a lot of talking, not a lot of action. The four characters are well developed and interesting – and their lives are unusually interwoven.
We first see Jude Law, a struggling writer, and Natalie Portman, a New York transplant, meet "cute" on the streets of London. Time elapses, they're a couple, and Jude meets and falls for Julia Roberts, a portrait photographer. Then Clive Owen jumps into the mix, more time elapses, and things change for the couples.
The whole movie is these four people, and how they handle love, desire, and rejection. It's heavy, and sometimes dark, but somehow intriguing, as if we are privy to their darkest secrets. All of the actors do well with their characters – but Natalie Portman is a stand out. She is this generation's Audrey Hepburn.
Not for everyone, but worth seeing if you appreciate good acting.
---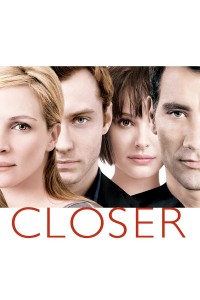 Closer
- -
---
---
Set in contemporary London, a story of passion, drama, love, and abandonment involving four strangers--their chance meetings, instant attractions and casual betrayals.
Photos
Storyline
---
---
Details
Box Office
Company Credits
Technical Specs