City Island
My Review:
Andy Garcia has lived in City Island, a remote neighborhood in New York, for his entire life.  The movie reflects on the culture of this area and the impact that it has on those living there.  He's married to Julianna Marguiles, and they have a daughter in college and a son in high school.  Every one in the family has a secret.  They all love each other, and are trying to protect one another by keeping these secrets.  But of course, one thing leads to another, misunderstandings, hilarity ensues, and as secrets are revealed, they learn more about themselves and each other.
Poignant movie, definitely worth seeing.  Well written, great cast.
---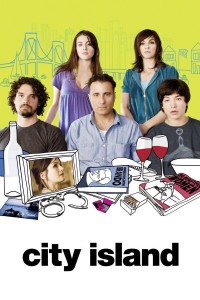 City Island
- -
---
---
The Rizzos, a family who doesn't share their habits, aspirations, and careers with one another, find their delicate web of lies disturbed by the arrival of a young ex-con brought home by Vince, the patriarch of the family, who is a corrections officer in real life, and a hopeful actor in private.
Photos
Storyline
---
---
Details
Box Office
Company Credits
Technical Specs