Cinderella Man
My Review:
So far, this is the best movie I've seen all year. Russell Crowe plays the title character, in the real life story of boxing champion James Braddock. Set during the depression, Braddock's story becomes a kind of fairy tale for all those struggling through hard times. There's a reason why Russell Crowe gets nominated so many times for his performances – he's a great actor! He doesn't even have to speak, it's like you know what he's thinking, his face is just so darn expressive. There are so many heartbreaking, and heartwarming moments in this film. I just loved it.
Ron Howard directs – he's a genius. Renee Zellweger plays Braddock's wife, Mae, sweet and tough at the same time, and fiercely devoted to her husband. Paul Giamatti is Braddock's boxing manager. He and Braddock have a strong bond, and their loyalty to one another is what seems them through when the chips are down. And Craig Bierko is quite the villain! I think this is Bierko's big break in the movies. He's done a ton of television, usually as the handsome cad, but this is totally out of character for him. You hardly even recognize him in the role! I saw Bierko a few years ago when he had the lead in "Music Man" on Broadway. My friend Andre Garner had a small part in the show so I went just to see him. I was surprised at how well Bierko could sing and dance, and he ended up with a Tony nomination! What a great cast.
Cinderella Man is an amazing story, an amazing movie, well written, and well presented. This one is bound to get several nominations come awards season, and it deserves every one!
---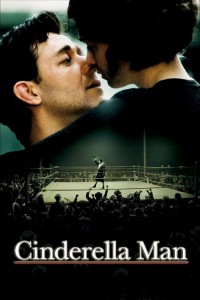 Cinderella Man
- -
---
---
Cinderella Man is the story of a boxer in the 1920's who after his retirement has a surprise comeback in order to get him and his family out of a socially poor state. The film is based on the true story of boxer Jim Braddock who was more famously known as Cinderella Man.
Photos
Storyline
---
---
Details
Box Office
Company Credits
Technical Specs