Blood Diamond
My Review:
Blood Diamond is a story set not too many years ago in Africa.  It's about the diamond business, and how smugglers and rebels exploited innocent people for the money that came from selling diamonds.  This is a very violent movie, with some very disturbing images, so be prepared – the R rating is there for this reason.
Leonardo DiCapro proves that he is one of the best actors of this generation.  He pulls off an accent on top of heavy emotional lifting throughout the film.  And he manages to be the likeable bad guy, a smuggler with major rooting factor, strong and smart and charming.  Jennifer Connelly is the American journalist he befriends.  This is a change of pace role for her, she gets to be funny and feisty.  Even in the African heat and dust she is naturally beautiful, and she uses her smile as a passport around the country.  Djimon Hinsou will take your breath away as the African fisherman who is kidnapped and forced to work in the diamond mines.  After his escape, he and Leo become reluctant allies in the quest to find a hidden diamond and his kidnapped son.
Strong story, very moving.  The ending is a bit rushed and tied up too neatly, but it lets you finally exhale.  Better to see this as a matinee, less chance of nightmares!
---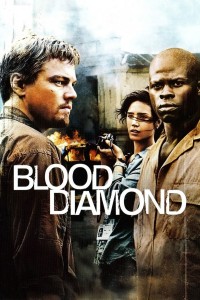 Blood Diamond
- -
---
---
An ex-mercenary turned smuggler. A Mende fisherman. Amid the explosive civil war overtaking 1999 Sierra Leone, these men join for two desperate missions: recovering a rare pink diamond of immense value and rescuing the fisherman's son conscripted as a child soldier into the brutal rebel forces ripping a swath of torture and bloodshed countrywide.
Photos
Storyline
---
---
Details
Box Office
Company Credits
Technical Specs