Birth
My Review:
Certain movies are designed to make you think. Birth is one of them. You can't help but take notice. It picks you up and drops you into this woman's life. The "what ifs" keep comning, and when you're not thinking about what is happening, you're thinking about what she could be thinking!
Nicole Kidman is the woman in question, a young widow faced with the possible reincarnation of her dead husband. Her life goes from content to tortuous as the events unravel that lead her to question a child's identity, and her own sanity. Kidman is mesmerizing – when she is lost in thought we're lost right along with her.
This movie stimulated more conversation in my household afterwards than any movie has in a long time.
---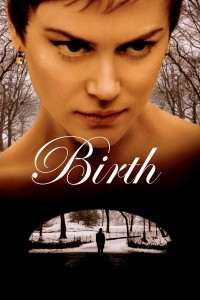 Birth
- -
---
---
It took Anna 10 years to recover from the death of her husband, Sean, but now she's on the verge of marrying her boyfriend, Joseph, and finally moving on. However, on the night of her engagement party, a young boy named Sean turns up, saying he is her dead husband reincarnated. At first she ignores the child, but his knowledge of her former husband's life is uncanny, leading her to believe that he might be telling the truth.
Photos
Storyline
---
---
Details
Box Office
Company Credits
Technical Specs