Birdman
My Review:
Birdman is getting a lot of awards-season buzz this year. And rightfully so. Michael Keaton is all but assured a nomination after his haunting performance as a down but not quite out actor famous for his role in a blockbuster action film with 2 sequels. He wants to redeem himself and his career with a Broadway show he's written, directed and stars in.
The film is technically fascinating – it's show in a way we haven't seem before – as if it is all one long, continuous scene. The acting is stellar. Edward Norton is unpredictable and electric as a talented yet unstable actor. Emma Stone plays a troubled teen trying to get to know her difficult father.
Film fans will want to see this movie to appreciate the originality of it. But just be warned that the story is dark, the characters sullen and mostly unlikeable.
Really interesting film.
---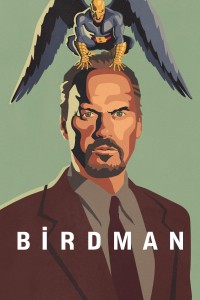 Birdman
- -
---
---
A fading actor best known for his portrayal of a popular superhero attempts to mount a comeback by appearing in a Broadway play. As opening night approaches, his attempts to become more altruistic, rebuild his career, and reconnect with friends and family prove more difficult than expected.
Photos
Storyline
---
---
Details
Box Office
Company Credits
Technical Specs