Before the Devil Knows You're Dead
My Review:
Sidney Lumet directs this movie – which gives you a good idea of its tone – very dark, intense, and artfully directed.  Phillip Seymour Hoffman is Andy, the big brother who looks like he's got it all together but who is actually deep in debt from embezzling from his company and his heroine addiction.  His wife is Gina, played by Marisa Tomei.  This is a great role for her.  She's lost, disconnected from her husband and having an affair with his loser little brother.  The little brother is Hank, played by Ethan Hawke, recently divorced and desperate for money.  Andy comes up with a scheme for Hank to rob their parents' suburban jewelry store, pawn the goods, and get both of them a new start.  But things go awry, and then they get worse.  Albert Finney is brilliant, as always, as the dad.  Thought provoking, conversation invoking – but you kind of walk out a little depressed.  Very heavy.
---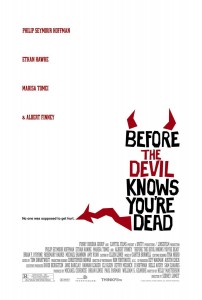 Before the Devil Knows You're Dead
- -
---
---
When two brothers organize the robbery of their parents' jewelry store, the job goes horribly wrong, triggering a series of events that send them and their family hurtling towards a shattering climax.
Photos
Storyline
---
---
Details
Box Office
Company Credits
Technical Specs