Batman: The Dark Knight
My Review:
This new Batman movie, "The Dark Knight" broke all kinds of box office records opening weekend.  And with good reason.  This movie rocks!  It is good on so many levels.  The script is amazing.  Twists and turns and crisp, original dialogue.  The action sequences will blow you away. And the acting is first rate.  I am certain that Heath Ledger will get a nomination as Best Supporting Actor for his role as the Joker.
Christian Bale is Bruce Wayne and his alter ego, Batman.  Batman is described as a vigilante in the film, but he's so much more than that.  He's a conflicted hero, who has everything he could ever want, except for the one thing he wants the most, love.  He knows that he has to give up his crime-fighting ways if he is to be with the woman he loves, Rachel Dawes (Maggie Gyllenhall).  But in order to do that, he has to be sure that the city of Gotham is in good hands.  His instincts tell him that Harvey Dent (Aaron Eckhart), the city's district attorney, is the true hero, and the hope that he desperately wants to leave with the people.  But alas, a new villain has arrived, one more dastardly and psychotic than Batman has ever faced: the Joker.
The Joker tells Batman "you complete me."  He is the antithesis of all that is good and right with Batman.  The Joker gets off on stirring things up and creating chaos, and that's just what he does, gleefully.
I give all the credit to the success of the film to its director, Christopher Nolan.  He gives Batman that "wow" factor.  It's definitely dark, but with interesting messages.  He certainly gives us a lot to talk about.
---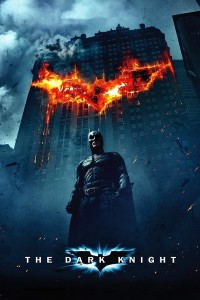 The Dark Knight
- -
---
---
Batman raises the stakes in his war on crime. With the help of Lt. Jim Gordon and District Attorney Harvey Dent, Batman sets out to dismantle the remaining criminal organizations that plague the streets. The partnership proves to be effective, but they soon find themselves prey to a reign of chaos unleashed by a rising criminal mastermind known to the terrified citizens of Gotham as the Joker.
Photos
Storyline
---
---
Details
Box Office
Company Credits
Technical Specs