Australia
My Review:
Officially my favorite movie of 2008.  I absolutely LOVE "Australia!"  It's like Gone With the Wind – epic and romantic and dramatic.  And it's like The African Queen – campy and funny and sweet.  Nicole Kidman plays a buttoned up British woman who heads to the Outback to check up on her husband's investment.  When she gets there, she finds that her husband has been killed.  Her guide, the Drover, becomes her lifeline in this foreign land, where everything is strange to her.  To try to save her land, and her dignity, she hires the Drover to help her move 1500 head of cattle across the Outback to the port, where she can sell them to the U.S. government.
The Drover is played by this year's "Sexiest Man Alive" Hugh Jackman.  Hugh is such a talent – he has been so good in every part he's played – but this role is made to order for him.  Originally he was cast as the villain in the film, but when Russell Crowe dropped out of the lead, Baz Luhrman asked Jackman to fill in.  Good call.  The chemistry between Jackman and Kidman is remarkable.
The story is written by Baz Luhrman, a tribute to Australia, and starring a mostly Australian cast.  The little boy in the movie had never acted before, but his performance will break your heart.  He's a natural.  The backdrop is 1939-41.  That makes for a nice tie-in with the Wizard of Oz, which becomes a recurring theme.  It also gives us the history of Pearl Harbor and the attack on Darwin.
The scenery is incredible.  The costumes, by Luhrman's wife and business partner Catherine Martin, are stunning.  The whole movie will just sweep you away.  I loved it!
---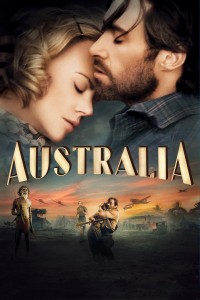 Australia
- -
---
---
Set in northern Australia before World War II, an English aristocrat who inherits a sprawling ranch reluctantly pacts with a stock-man in order to protect her new property from a takeover plot. As the pair drive 2,000 head of cattle over unforgiving landscape, they experience the bombing of Darwin, Australia, by Japanese forces firsthand.
Photos
Storyline
---
---
Details
Box Office
Company Credits
Technical Specs