August Rush
My Review:
August Rush is a love story between three people torn apart by circumstances, and how they find their way back to each other.  We meet each one individually.  Lyla (Keri Russell) is a young cellist with a blossoming career.  One night she meets a young Irish singer/songwriter (Jonathan Rhys Meyers) and they fall asleep together, and fall in love.  Unfortunately, her ambitious father refuses to let that get in the way of her music career, and the young man is back on a plane to San Francisco.  They try to reconnect at the same spot they met in New York, but fate keeps them apart.  We learn that Lyla is pregnant, and she wants the baby, but she is hit by a car and her father tells her that she lost her child.  The child is Evan Taylor (Freddie Highmore), now 11 years old when we meet him, living in a boy's home, refusing to be adopted because he "hears" his mother and father in the sounds all around him, which he interprets as music.
When Evan can get away from the home, he heads to New York City, and is taken is by an Oliver Twist type of group of young runaways who play music on the streets and split the money with their self-appointed leader, Pip (Robin Williams).  Pip acts as a kind of surrogate father to the kids, but he doesn't always have their best interest at heart.  He changes Evan's name to "August Rush" to keep the authorities from finding this musical prodigy.
Meanwhile, Lyla's heart is aching, as is the songwriter's.  Her father tells her the truth on his death bed and she goes in search of her son.  The songwriter goes in search for Lyla.  Evan is in search of his parents, and eventually, amazingly, they are all brought together.
The movie pulls at your heartstrings a little too hard – our emotions are literally orchestrated.  Keri Russell is wonderful.  Jonathan Rhys Meyers is a really good singer, and Freddie Highmore is as good as always.  Terrence Howard is the Child Protection Services authority to helps out.  Robin Williams is his usual crazy like a fox self.
---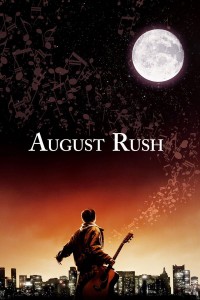 August Rush
- -
---
---
A drama with fairy tale elements, where an orphaned musical prodigy uses his gift as a clue to finding his birth parents.
Photos
Storyline
---
---
Details
Box Office
Company Credits
Technical Specs