Amazing Grace
My Review:
Based on the true story of William Wilberforce's fight to abolish the slave trade in England, Amazing Grace is a remarkable movie – the first "must see" of 2007.  The title comes from the song, written by a sea captain on a slave ship who was devastated by what he saw on board and gave the rest of his life to religion.   As a monk, he mentored Wilberforce, and his teachings had an impact on the young man.
At one point, Wilberforce, a young and charismatic politician, comes to a crossroads.  He has discovered God, and is tempted to give up his successful career to join the clergy.  His good friend, with political aspirations to be Prime Minister, invites an eclectic group of people to plead their case to Wilberforce.  They are each dedicated to ending the slave trade in England, and they need his help to do it.  As one woman put it: "We understand that you must decide between serving God, and serving the people.  We suggest a way that you can do both."  He makes this his life's work, and almost gives his life for it when he becomes deathly ill.  But then, he meets a woman, who inspires him, and gives him that second wind he needed to keep going.
There are so many things to love about this movie.  It is empowering, inspiring, and beautifully done.
---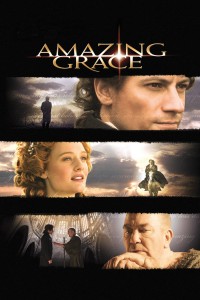 Amazing Grace
- -
---
---
From the makers of "Ray" and acclaimed director Michael Apted, comes the inspiring story of how one man's passion and perseverance changed the world. Based on the true story of William Wilberforce, "Amazing Grace" follows his courageous quest to end the British slave trade. Along the way, Wilberforce meets intense opposition, but his minister, John Newton, urges him to see the cause through.
Photos
Storyline
---
---
Details
Box Office
Company Credits
Technical Specs