After the Sunset
My Review:
Pierce Brosnan has cornered the market on the sexy spy/thief roles in our lifetime. He is hotter than ever in this role, cavorting with Salma Hayek on the beach, and strolling around the islands all tanned and tousle-haired – who says he's too old for James Bond?
I haven't seen Woody Harrelson in a movie in awhile – and his goofy FBI agent is a nice contrast to our suave diamond thief. These two have great chemistry – you'd think this was one of those "buddy" movies the way they play their scenes together! This could be an ongoing relationship – do I smell a sequel?
Salma Hayek is just too gorgeous – I love her clothes, her attitude, her hair – she plays this role with such ease you just want to be her!
This is a light, fun movie, perfect for date night.
---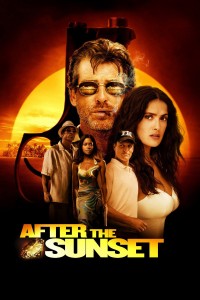 After the Sunset
- -
---
---
Two master thieves (Brosnan and Hayek) are finally retiring after one last succesful mission. Residing in their own tropical paradise, their old nemesis, FBI Agent Stan P. Lloyd shows up to make sure they really are retired. Docked in the port is an ocean liner called the "Diamond Cruise" and Stan is convinced that they're not really retired at all, and that this is the next set up.
Photos
Storyline
---
---
Details
Box Office
Company Credits
Technical Specs