Adjustment Bureau
My Review:
It's still early in the year, but I have to say that so far, The Adjustment Bureau is my favorite movie of 2011.
It's hard to put a label on this one, but I'll say it's a Sci-Fi Romance. Matt Damon always delivers – and he does it again here.  And Emily Blunt is lovely as his true love.  But what I like best about the movie is the concept.  It's a kind of "what if" look behind the scenes.  There are no coincidences, there is some kind of a grand plan, and we do have some say in it.  Beautiful!
---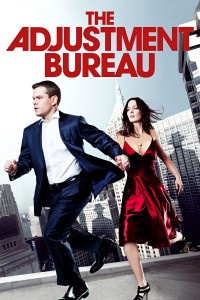 The Adjustment Bureau
- -
---
---
A man glimpses the future Fate has planned for him – and chooses to fight for his own destiny. Battling the powerful Adjustment Bureau across, under and through the streets of New York, he risks his destined greatness to be with the only woman he's ever loved.
Photos
Storyline
---
---
Details
Box Office
Company Credits
Technical Specs