42
My Review :
42 has all the elements of an amazing movie – it's a true story, it's got an underdog who prevails, it has warmth, humor, drama, action and love.  What more could you want?  That's why I absolutely adore this movie.
42 is the number that Jackie Robinson was issued when he was the first black athlete to join the Brooklyn Dodgers baseball team in 1947.  The movie follows the life story of Jackie Robinson and his career in baseball, his family life, and how he impacted millions of Americans by helping to break down racial barriers in sports.
Chadwick Boseman plays Robinson, and Nicole Beharie plays his patient and equally strong wife, Rachel.  Harrison Ford is the biggest movie name – he plays Dodgers executive Branch Rickey – an over-the-top visionary who recruits Jackie for his team.  Ford spends much of the film chewing on a cigar – this is a great character role for him.
Nice performances from TV favorites T.R. Knight, Christopher Meloni and Hamish Linklater.
Jackie Robinson is a true hero, and this movie is a wonderful tribute to him and to his accomplishments.
---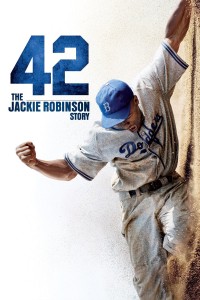 42
- -
---
---
"42" is the powerful story of Jackie Robinson, the legendary baseball player who broke Major League Baseball's color barrier when he joined the roster of the Brooklyn Dodgers. The film follows the innovative Dodger's general manager Branch Rickey, the MLB executive who first signed Robinson to the minors and then helped to bring him up to the show.
Photos
Storyline
---
---
Details
Box Office
Company Credits
Technical Specs