Lessons Learned From Loreto
The soul is stirred by travel. I have found this to be true with every trip I take. There's always some purpose that I find, some lessons that I take with me, and carry with me long after I have departed a place. So much so that I am following the Dalai Lama's advice when he said: "Once a year go someplace you've never been before."
Oftentimes we take a vacation to relax, to unwind, or to disconnect from the real world. But what we find is that after we've gone through this process, we wake up, we reconnect with our true self, and with everything that is indeed "Real." This is how I feel after my trip to Loreto, Mexico. What started out as a getaway to a luxury resort ended up as an enriching spiritual experience, one that I will remember always. Here are some of the lessons I learned from Loreto:
1. Honor Where You Are. Loreto is one of those "middle of nowhere" places. When most people think of Baja, California, they think of Cabo San Lucas – a popular tourist destination. But Loreto is a jewel that is often overlooked. Situated on the east coast of Baja, and set on the pristine Sea of Cortez, Loreto offers the beauty of nature and an authentic experience of Mexican culture and cuisine.
Eight-hundred square miles of Loreto is a National Marine Park that includes its five islands. Jacques Cousteau was a frequent visitor. As a National Park, the animals, including whale, dolphin and a wide variety of birds, including the blue-footed booby, are protected in the marine sanctuary. We ventured out to see the islands and enjoyed lunch at Honeymoon Beach where a seagull stole an unattended sandwich! It's his home; we were just visiting, so I didn't mind sharing.
The Pitaya cactus plants found throughout Loreto are tall and proud, some more than 200 years old. These are also protected in Mexico, both revered and appreciated by the locals.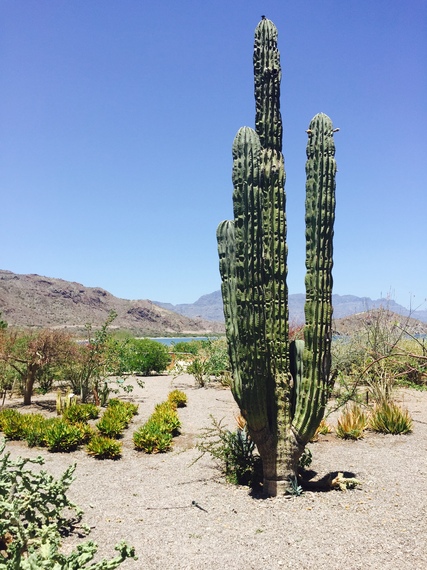 Because Loreto is so far from large cities local chefs emphasize foods that can be grown in their own gardens. Chef Alfonso Pelegrina grows many herbs and vegetables right on the property of the Villa del Palmar at Loreto and uses them in the recipes he makes for his three restaurants. Super fresh, organic, local, cared for with love — what could be better? This! Whether you are gluten-free, vegan, kosher — whatever your particular dietary needs are — the Chef is happy to accommodate and create something special just for you.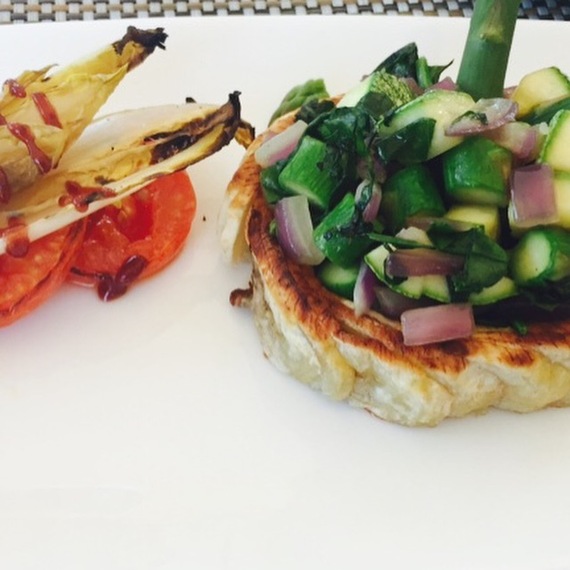 "Honor Where You Are" also can be taken in a spiritual sense. How are you feeling? What does your body need right now? It's being in tune with your senses, and giving yourself that gift of care. During morning yoga on the beach I felt refreshed by the salt air. I adjusted each pose gently, honoring my body's need to stretch without overdoing it. Yoga isn't a competition; it's a personal practice. Yoga on the sand is an extra challenge, but a delightful one.
2. Practica Sus Sonrisas. This translates to "Practice Your Smiles!" In a small town like Loreto, with a population of 15,000, it's easy to see how we are all connected. The Law of Relationship says that we are here to help each other learn and grow, and that's even more true in the "middle of nowhere." We rely on each other. Everyone becomes your friend. The people in Loreto are so warm and welcoming and happy and helpful. I was greeted with smiles everywhere I went.
Loreto was established in 1697. Now those were difficult times! To set up a city in the desert was tough. No water, no electricity. There were many obstacles to overcome, and it took several decades. You can see process of building the Nuestra Senora de Loreto Mission by looking at the styles and ages of the brick walls. Somehow they hung in there and got it done. At one point, explorers thought that California, and Baja California, was one big island. The Museum in Loreto has old maps that illustrate this. As a California native I especially appreciate the glimpse into history.
In town I bought a beautiful, handmade sterling silver ring to keep as a souvenir. I also indulged in a homemade frozen guava treat — vegan, of course! I'm sure the ice cream store's owner, who served me personally, grew the guavas himself, too. It was so yummy on a hot day as I strolled through the arched trees marking the start of the original El Camino Real, a California landmark. How could I not have a smile on my face?
3. Explore Your Potential. Loreto is a small town, but it was a much smaller town back in the 1700's. It's come a long way. And right now it is growing. There's an airport, with direct flights from Los Angeles, Calgary, and some cities in Mexico. The Villa del Palmar at Loreto is a luxury resort on 137,000 acres, with gourmet restaurants, three pools, a spa, and soon they'll have a golf course as well. The hotel is self-sustaining. They have a desalination plant on site, so you can drink the water. Plus, it's super eco-friendly as they are powered mostly by solar energy. Employees are encouraged to further their education and supported with classes right on the property.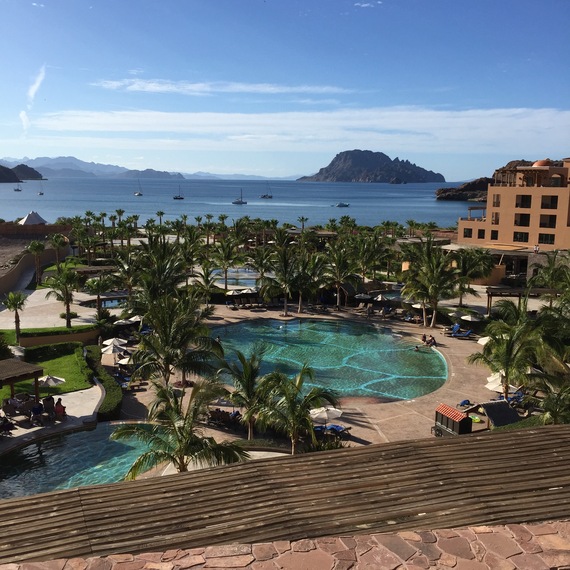 We can surprise ourselves by all that we can accomplish when we set our minds to it. There are no limits — even if we think there are. It's just pure potential. We have the capacity to do whatever it is that we want to do. We have the desires that we have for a reason, because it is possible for us to achieve them, to make them a reality in our own lives. There are examples all around us.
4. Leave Some Time to Just Hang Out. Life keeps us busy, that's for sure. We're constantly jumping from one thing to the next, with hardly a pause in between. We're so in the habit of this that we continue the pace even when we're on vacation. I can think of many places I've visited where our scheduled were jam-packed with activity, and the only rest I got was in the car on the way.
But Loreto is different. Instead of an ocean that is in constant motion, the Sea of Cortez is calm, almost still. It's gentle quiet sets the pace. Rather than going surfing, people go paddle boarding, and snorkeling. The water is like glistening gems – aquamarine, emerald, and sapphire in color – clear, clean and beautiful. You can hike along the surrounding ridges and see the islands from a higher vantage point, nestled in the sea like they were placed there artistically and with precision. You can't help but stop and take in the glory of nature that is everywhere you look. There's no rush. There's room to breathe, and time to enjoy.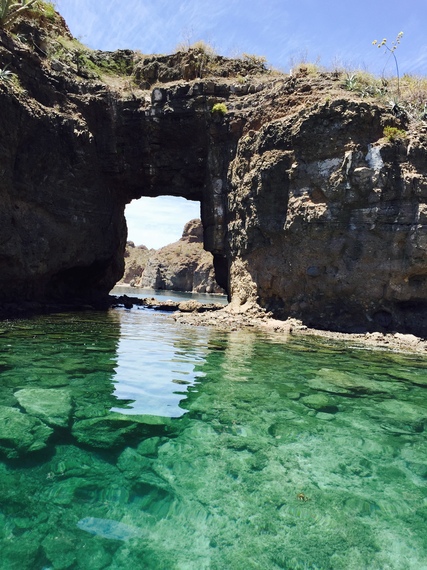 I came home from Loreto refreshed, renewed, and inspired. A little sun, a little spa, and some good food does wonders for the soul. I enjoyed both the adventure of exploring a new place, and the relaxation of feeling completely comfortable. Loreto is a place I will return to, as there are many more lessons to be learned.