Help the World: Healing through Scientific Prayer
Presented by Rev. Alan L. Pritz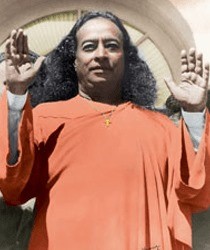 Paramahansa Yogananda (author, Autobiography of a Yogi) transmitting spiritual blessings.
Negative vibrations of selfishness, greed, and hatred bring disease, unhappiness, war, and natural disaster to individuals and nations. These can be overcome if enough people turn to Spirit in meditation and prayer. By changing ourselves — through spiritual living and communion with the Divine — we automatically radiate vibrations of peace and harmony that do much to counteract the negative effects of inharmonious living. In addition, we can serve as channels for divine healing through scientific prayer. Never has a time been so ripe for social and planetary spiritual healing.
Praying for others is one of the highest services we can offer. Charity, social work, and other forms of relief are valuable and necessary in temporarily alleviating the suffering of others, but scientific prayer strikes at the root cause of world suffering: wrong thought patterns of humanity that ultimately manifest as inharmonious conditions. Though prayer styles may differ, spiritual healing is most effective when methods of transmitting energy correspond with our subtle body structure.
The body/mind is a receiving and broadcasting station. We tune into, or receive, Spirit by focusing at the spiritual eye in meditation. Then, we broadcast or transmit healing forces through the energy centers or chakras in the palms. This is the historical basis of "laying on of hands' and many other forms of energetic healing.
These 5 steps can be done by anyone regardless of faith orientation. It doesn't what form of Higher Power you adheres to; what matters is helping.
Step One: Tune-In
Meditate to draw closer to God / Spirit. Commune deeply with the Divine.
Step Two: Ask
Invoke Divine blessing and guidance. God is the sole healer, we are but channels for that Higher Power.
Step Three: Prepare
Rub the hands together briskly. Feel a sensation of warmth or energy gather in the palms (as best as possible). Raise the hands to head or shoulder height with palms facing out. Clearly visualize whoever or wherever you wish to direct healing.
Step Four: Sending
Chant OM or Amen/Amin aloud simultaneously feeling spiritual blessings and energy flow out through the hands. Mentally direct this healing force by envisioning recipients bathed in divine healing light and manifesting perfect health. Again, see them as Whole.
Repeat this process several times or for as long as you feel to do so.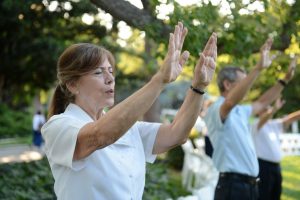 Step Five: Closure
Express gratitude for the healing. Appreciation is ever appropriate for divine gifts.
Consider doing this as part of your daily spiritual practice. The world needs YOUR help and everyone's input is important! Just do and let God take care of outcomes. Share with others.