This is 40
My Review:
Judd Apatow's new film "This is 40" picks up with the characters of married couple Pete and Debbie from one of his previous films, "Knocked Up."  Leslie Mann (Apatow's real life wife) and Paul Rudd reprise their roles.  It's Debbie's 40th birthday, which causes her to assess her life and make new goals for herself and her family.  Mann and Apatow's real life kids play Paul and Debbie's daughters Sadie and Charlotte.
This is 40 is rated R – and it's really an R – there is lots of language and some sex and juvenile jokes about sex.
There are parts of the movie that are really charming and warm – definitely relatable for the over-35 crowd.  But there are also parts that are just plain mean, and not funny at all.  I don't like the way the various characters speak to one another – and I hope people don't get the impression that this is the way it is in households across America, because that's just SO not the case!  As a relationship expert, I'd say this movie is an example of all the things NOT to do in a relationship.
A mixed bag.  Paul  Rudd is the best part of the movie – and the kids – they're really cute!
---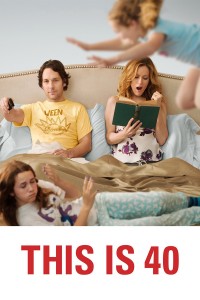 This Is 40
- -
---
---
Pete and Debbie are both about to turn 40, their kids hate each other, both of their businesses are failing, they're on the verge of losing their house, and their relationship is threatening to fall apart.
Photos
Storyline
---
---
Details
Box Office
Company Credits
Technical Specs