The Sorcerer's Apprentice
My Review:
The Sorcerer's Apprentice has a great premise – and so much potential.  Unfortunately, the whole movie falls short.  The story is good, and the effects are fun.  But I think part of the problem lies in the casting.  Nicolas Cage is the sorcerer, and he lacks the magic that we expect from someone with such power – he's droll and tired throughout much of the film.  And his apprentice is appropriately nerdy, but he doesn't grow or change as he learns from his experiences.  He's pretty much the same nerdy guy he was when he starts.  Alfred Molina lends much-needed pizazz to the ensemble cast – he's an over-the-top villain – delighting in his dastardliness!
The silliness gets too silly, so we lose any semblance of a believability factor.  It just all takes to long to resolve.  It could have been so much better!
---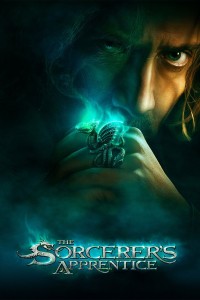 The Sorcerer's Apprentice
- -
---
---
Balthazar Blake is a master sorcerer in modern-day Manhattan trying to defend the city from his arch-nemesis, Maxim Horvath. Balthazar can't do it alone, so he recruits Dave Stutler, a seemingly average guy who demonstrates hidden potential, as his reluctant protégé. The sorcerer gives his unwilling accomplice a crash course in the art and science of magic, and together, these unlikely partners work to stop the forces of darkness.
Photos
Storyline
---
---
Details
Box Office
Company Credits
Technical Specs