The Chronicles of Narnia: Prince Caspian
My Review:
It helps a lot to have seen the first movie.  That's where a lot of the character development takes place, and a lot of the back story that you really need to know to understand this second installment.  Based on the popular books by C.S. Lewis, the Narnia movies are really beautiful, they bring the magic to life.  In Prince Caspian, the four children return once again to Narnia and soon find themselves entrenched in another battle to save the place.  They meet up with the Prince, who has been thrown out of his neighboring kingdom by his power-hungry uncle, and they join forces.  The girls are great role models, strong and smart.  Of course there are war scenes, but they're all very sanitized, no blood or guts.
---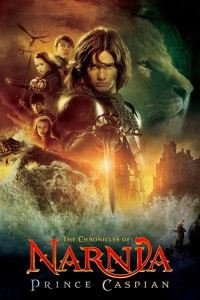 The Chronicles of Narnia: Prince Caspian
- -
---
---
One year after their incredible adventures in the Lion, the Witch and the Wardrobe, Peter, Edmund, Lucy and Susan Pevensie return to Narnia to aid a young prince whose life has been threatened by the evil King Miraz. Now, with the help of a colorful cast of new characters, including Trufflehunter the badger and Nikabrik the dwarf, the Pevensie clan embarks on an incredible quest to ensure that Narnia is returned to its rightful heir.
Photos
Storyline
---
---
Details
Box Office
Company Credits
Technical Specs