Runner Runner
My Review:
Runner Runner movie stars Justin Timberlake as a Princeton grad student who becomes an "affiliate" for an online gambling website to pay his tuition.  Circumstances lead him to Costa Rica, where one internet kingpin, played by Ben Affleck, has set up shop.  Smart Justin quickly becomes Ben's right hand man, and is privy to all the behind the scenes shenanigans that go into this very dangerous business.  Justin is put in a tough position when the FBI comes calling, and he has to come up with some creative ideas to save his skin from one side or the other.
Good story, some dark moments – very timely for today.
---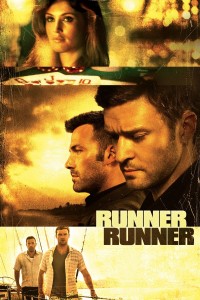 Runner Runner
- -
---
---
When a poor college student who cracks an online poker game goes bust, he arranges a face-to-face with the man he thinks cheated him, a sly offshore entrepreneur.
Photos
Storyline
---
---
Details
Box Office
Company Credits
Technical Specs