Pirates of the Caribbean 2: Dead Man's Chest
My Review:
Fun, light, adventurous – and Johnny Depp!  The special effects are effectively creepy – Bill Nighy is Davy Jones, the villain with the octopus face – will this be an award for make-up or special effects?  Somehow he acts through all this and it works.  Orlando Bloom is back as Will, with a little more depth and the same boyish charm.  Keira Knightly is the our heroine – appropriately spunky and proud, strong and brave.  And Captain Jack Sparrow steals the show – that Johnny Depp just gets better and better.  Loved his make-up here.  The 3 are on a mission to find the Dead Man's Chest, the owner of which controls the sea.
I was prepared that there really is no ending to this movie so I wasn't disappointed.  It clearly is a cliff hanger, meant to keep us going until Memorial Day weekend 2007.  It's going to be good, I can't wait!
---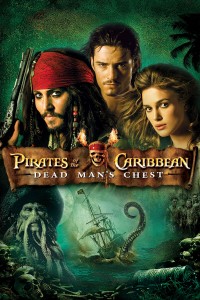 Pirates of the Caribbean: Dead Man's Chest
- -
---
---
The high-seas adventures of happy-go-lucky troublemaker Captain Jack Sparrow, young Will Turner and headstrong beauty Elizabeth Swann continues as Sparrow works his way out of a blood debt with the ghostly Davey Jones, he also attempts to avoid eternal damnation.
Photos
Storyline
---
---
Details
Box Office
Company Credits
Technical Specs