National Treasure 2
My Review:
I think I like this sequel better than the original!  It's a romp – pure adventure, lots of fun.  The whole cast reprise their roles.  Nicholas Cage is Ben Franklin Gates, Treasure Hunter and Historian.  Jon voight is his dad.  This time Helen Mirren comes in, (love her!) as his mom.  Diana Kruger is his wife, maybe soon to be ex.  Ed Harris is the bad guy.  They all have a lot of fun together.  Reminiscent of Indiana Jones.  Oh, and Bruce Greenwood is the president – isn't he ALWAYS the president?  In this one they're solving who shot Lincoln and they travel to England and France and Mt. Rushmore to do it.  Wonderful locations!
---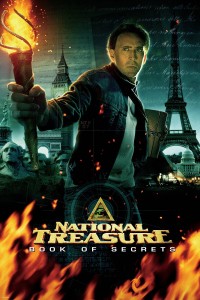 National Treasure: Book of Secrets
- -
---
---
Benjamin Franklin Gates and Dr. Abigail Chase -- who found riches and romance at the end of their first hunt for national treasure -- reteam with their wisecracking partner in crime, Riley Poole, for another romp through U.S. history. Now, armed with a stack of long-lost pages from John Wilkes Booth's diary, Ben must follow a clue left there to prove his ancestor's innocence in the assassination of Abraham Lincoln.
Photos
Storyline
---
---
Details
Box Office
Company Credits
Technical Specs