Marley and Me
My Review:
Based on the book by columnist John Grogan which is based on his own life experiences with his family and his dog, "Marley and Me" is promoted as a heart-warming comedy.  Though there are funny parts to the movie, it is more accurate to use the term "dramedy."  Drama with comedic elements.  You will cry more than you laugh.  It's all about the dog, Marley.  We meet John (Owen Wilson) and his young wife Jenny (Jennifer Aniston) right when they get married, and start their family with a rambuctious yellow labrador puppy, Marley.
The movie spends the first half showing just how misbehaved Marley can be.  Kathleen Turner (Kathleen, what are you doing in this part?) makes a cameo as a dog trainer who kicks Marley out of school.  This doesn't really endear us to Marley as much as make us wonder why the heck anyone would put up with a dog like this.  I think it's a little overdone.
John goes through a career change, the couple has kids, and Marley adjusts to all of it by just being himself.
Then as the kids grow up, Marley grows older, and the waterworks start.  I cried and I don't even like dogs all that much.
---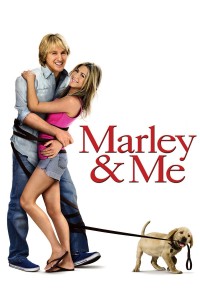 Marley & Me
- -
---
---
A newly married couple who, in the process of starting a family, learn many of life's important lessons from their trouble-loving retriever, Marley. Packed with plenty of laughs to lighten the load, the film explores the highs and lows of marriage, maturity and confronting one's own mortality, as seen through the lens of family life with a dog.
Photos
Storyline
---
---
Details
Box Office
Company Credits
Technical Specs