Hector and the Search for Happiness
My Review:
When a psychiatrist reaches a crossroads in his life, he decides to drop everything and travel the world in the search for happiness. Simon Pegg is the psychiatrist, and when he finds himself tired of doling out advice when he doesn't feel like he has answers himself he ditches his life. His live-in girlfriend, Rosamund Pike, is supportive, until she finds her fears coming to the surface as well.
It's a reminder to us all about adventure, saying yes to life, and recognizing what is really important to us.
Highly recommended! I wish there were more movies like this one!
---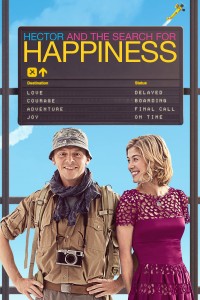 Hector and the Search for Happiness
- -
---
---
Hector is a quirky psychiatrist who has become increasingly tired of his humdrum life. As he tells his girlfriend, Clara, he feels like a fraud: he hasn't really tasted life, and yet he's offering advice to patients who are just not getting any happier. So Hector decides to break out of his deluded and routine driven life. Armed with buckets of courage and child-like curiosity, he embarks on a global quest in hopes of uncovering the elusive secret formula for true happiness. And so begins a larger than life adventure with riotously funny results.
Photos
Storyline
---
---
Details
Box Office
Company Credits
Technical Specs