Harry Potter and the Order of the Phoenix
My Review:
This is the 5th movie in the Harry Potter series, and as the characters (and the actors) are getting older, the themes are getting more mature.  The movie is dark, a little scary even, the villains are more sinister.  This one is rated PG-13.  I have not read the books, though some people tell me that the books are better than the movies – which seems to be the case in most adaptations.  But what is great is that you don't have to have read the books to understand the movie.  And you really don't even have to have seen the previous movies to understand the current one out.  Although I think you will enjoy it more having that background.  The young actors are all very good in their roles.  I look forward to the next two in the series!
---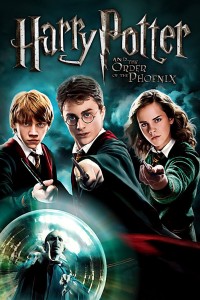 Harry Potter and the Order of the Phoenix
- -
---
---
Returning for his fifth year of study at the venerable Hogwarts School of Witchcraft and Wizardry, the ever-maturing Harry Potter is stunned to find that his warnings about the return of Lord Voldemort have been ignored. Left with no choice, Harry takes matters into his own hands, training a small group of students -- dubbed "Dumbledore's Army" -- to defend themselves against the dark arts.
Photos
Storyline
---
---
Details
Box Office
Company Credits
Technical Specs