Good Night and Good Luck
My Review:
Good Night and Good Luck is the true story of Edward R. Murrow and all that was going on with the McCarthy hearings around that time. David Straithern is totally Edward R. Murrow – you forget he's acting! George Clooney directs, and plays Murrow's producer, Fred Friendly. Clooney's character definitely takes a back seat to Murrow, who is up front and on the air during the whole controversy, but he is no less involved. The movie plays more like a documentary than a feature film. It is shot in black and white, without a soundtrack. Wonderful supporting performances from Patricia Clarkson and Robert Downey Jr. There is lots of authentic footage from news at the time. It's really a history lesson. So although it is an amazing movie, it's not for everyone – it's definitely for the true film fan.
---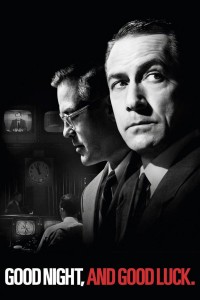 Good Night, and Good Luck.
- -
---
---
George Clooney's fact-based drama about the famous radio journalist Edward R Murrow's stand against Senator McCarthy's anti-communist witch-hunts in the early 1950s.
Photos
Storyline
---
---
Details
Box Office
Company Credits
Technical Specs