Elysium
My Review:
Oh, Matt Damon – what are you doing in this movie?
Elysium starts off all right – it's clearly sci-fi, and futuristic.  It's the world after we've basically overpopulated it and let it all fall apart – it's unsafe, dirty, falling apart.  And then there's Elysium, where all the super rich people took off to and escaped.  It's this Utopia that the earth people only dream of.
So Matt Damon looks up to the sky at this Elysium ever since he is a little boy in an orphanage in Mexico.  Even though he's been a car thief and a criminal, we can tell he's really a good guy who just got a bad break.  He's trying to get his act together and save money to get a golden ticket that will smuggle him into Elysium.
Of course, his plans go awry, and the earth is messed up, and it turns out Elysium isn't that Utopian after all.  But by that time, this movie that clearly had potential to make a statement has turned into a sort of "Transformers" brawl.  And it just gets more ridiculous.  I'm surprised Jodie Foster got through her part as the villain with a straight face.
---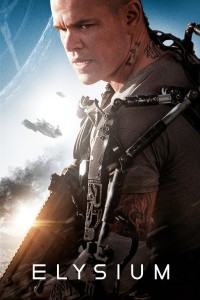 Elysium
- -
---
---
In the year 2159, two classes of people exist: the very wealthy who live on a pristine man-made space station called Elysium, and the rest, who live on an overpopulated, ruined Earth. Secretary Rhodes (Jodie Foster), a hard line government official, will stop at nothing to enforce anti-immigration laws and preserve the luxurious lifestyle of the citizens of Elysium. That doesn't stop the people of Earth from trying to get in, by any means they can. When unlucky Max (Matt Damon) is backed into a corner, he agrees to take on a daunting mission that, if successful, will not only save his life, but could bring equality to these polarized worlds.
Photos
Storyline
---
---
Details
Box Office
Company Credits
Technical Specs