27 Dresses
My Review:
Sweet, light romantic comedy starring Katherine Heigl as the bridesmaid of all bridesmaids, 27 Dresses has chick-flick written all over it.  But it's a good date movie, too.  We don't get enough fun movies these days, there is too much out there about the war and other acts of violence.  This is a welcome break!
The story is this girl has been a bridesmaid 27 times, and she's secretly in love with her boss, but can't bring herself to tell him.  Meanwhile, her attractive younger sister comes to town, and the boss falls for her.  While all this is going on, a handsome reporter (James Marsden) assigned to the wedding beat, decides to do a story on this perpetual bridesmaid.  There is instant animosity, followed by the requisite getting stuck together and then a hilarious rendition of "Bennie and the Jets" while intoxicated, and the two are a couple.  For about a minute.  She discovers his story, dumps him, and more complications ensue until we have a happy ending and everyone ends up with who they're supposed to be with.
Katherine Heigl is charming – so natural and easy – the camera loves her.  She will likely get lots more of these type of roles.  James Marsden has been around for a long time (X-Men, Spiderman, Enchanted) but now he's coming into his own as leading man material.  They're great together.
---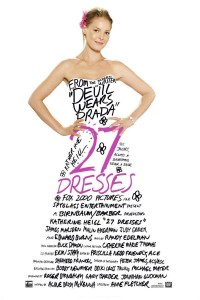 27 Dresses
- -
---
---
After serving as a bridesmaid 27 times, a young woman wrestles with the idea of standing by her sister's side as her sibling marries the man she's secretly in love with.
Photos
Storyline
---
---
Details
Box Office
Company Credits
Technical Specs